Revolutionary Advancements in Technology allows CleanABoat™ to bring you CleanATeak™. The ultimate in Teak Protection sealer. Utilising nano technology, specialised UV structures, & deep penetration into the grain of the teak wood, CleanATeak manages to re-think the way we protect our Teak! Gone are the days of old, where lacquer like solvent based "paints", "varnishes" & harsh "oils" cover the Teak Deck in an attempt to hide the Damage caused by UV, salt, and general spillages.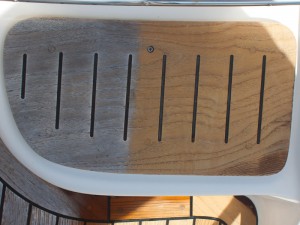 CleanATeak™ Teak Deck Wash & Brightener
CleanATeak Marine Deckwash will gently clean and cleanse your Teak Decking, helping to maintain the look and feel of your teak deck. View a demonstration of our cleaner below, and even watch a video on how to best clean your teak decking. Below is more details on our CleanATeak Teak Deck Sealer.
CleanATeak will also increase the life of the teak, reducing the requirement of harsh cleaning chemicals & the wearing of the grain this causes. Keeping the natural oils in the teak & boosting the value of your boat. To purchase online, simple head to CleanAShine.com
CleanATeak™ Teak Deck Protection
Now by using Clean A Teak Seal'N'Protect to protect your teak decking you are applying a water based easy to use "penetration" agent to your Teak. Soaking into the grain of the wood, leaving the natural non slip feel while also allowing the teak to expand, contract & breathe. This feature also stops the issues of previous teak sealers, no more peeling or cracking! No more algae or black spotting under the sealer! This also allows total wetting & drying to be achieved, allowing normal use of your deck. CleanATeak will protect your teak deck & furniture for longer than any other, with a natural wood feel and look. Sailing Yacht owners prefer the natural feel that CleanATeak gives, ensuring the decks remain non slip & protected for longer.
Clean A Teak first focused on the major issues. UV light degenerates and dries out the wood of its natural oils. The Harsh environment assists this degeneration. By using a specialised blend of UV protection coupled with revolutionary Nano technology on your deck CleanATeak has fixed these issues once and for all!
CleanATeak Teak Sealer is Australian Made and Developed.
[tube]oSvlRcz4ZI8[/tube]