Control Module Development
CleanAHull is part of the GLOBAtech Australia product range and as such takes advantage of the continued and consistent research & development cycle. We see product development as a kind of evolutionary process. Through continued efforts and incremental improvements we move our products forward with the focus on obtaining ultimate; reliability, efficiency, results and as always quality.
Over the years this ethos has seen a number of product revisions and upgrades all of which achieving one or more of the above goals and when coupled together have aligned as major leaps in our technology consistently keeping us at the cutting edge of our industry.
The CleanAHull Control Module Circuit Board/Program
The CleanAHull control module is based on the proven platform developed over years of experience and advancements by GLOBAtech Australia.
Automatic Calibration Function (Reads and Calibrates Installation/Hull Transducer Conditions)
IP65 Polycarbonate Flame Retardant Enclosure
Built in system monitoring and EEPROM Uptime Counters stored
Advanced Frequency Generation Algorithm using multiple built in sensors for the best output.
4 Built in Temperature Sensors for active monitoring
Active Battery Monitoring
Individual Channel Fusing + Monitoring
12/24V DC Auto Sensing Input Voltage
Active Current Monitoring
Isolated ALARM Output Relay for vessel system monitoring
System Isolation function
Built in LCD Display for live status updates and Clear English Error Notifications.
RCM, FCC, CE Tested Compliant.
Advanced Highly Efficient Digital Driver Circuit
CleanAHull Control Module Overview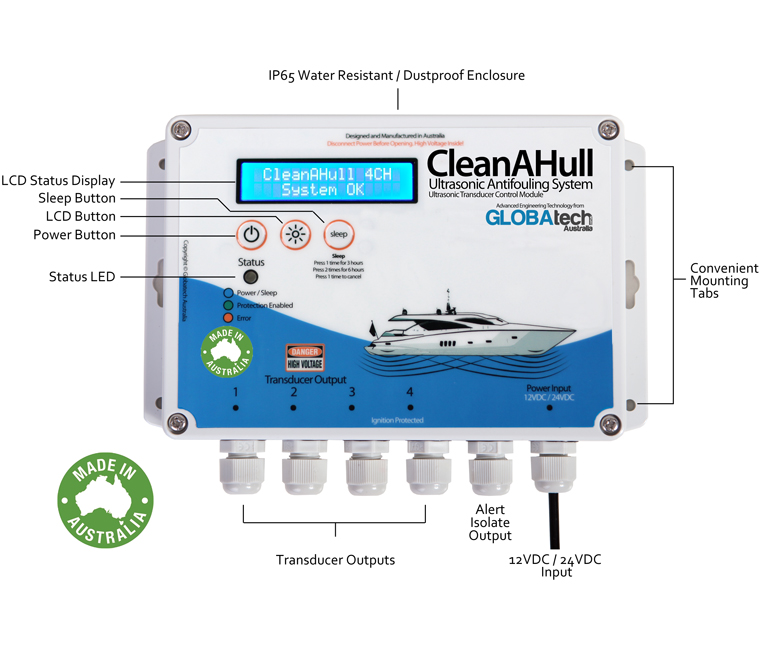 Transducer & Footprint Development
The Most Efficient Transducer Ever...
Proprietary Primary and Secondary Mass for drastically improved efficiency. Custom Injection Molded Flame Retardant PVC Enclosure. Electrically Isolated. IP68 Rated. Advanced High Quality Piezo Technology. Suitable for ALL Hull Types.
Our transducers and Footprint/Mounting processes have adapted over time as we have found ways to improve of the output, efficiency & installation. We now utilize a proprietary technology unique to the CleanAHull system improving throughput of energy with the mounting footprint along with major advancements in the efficiency of the Transducer itself for the most reliable system with the best results in the market.
Advanced High Quality Piezo Design
Flame Retardant PVC Housing
Electrical Isolated PVC Housing
Suitable for Aluminium, Steel, Kevlar, GRP (Fibreglass), Carbon Fibre, HDPE and more hull types.
Special Electrically Isolated Epoxy Bonding Resin (JB-Weld)
Propriatary Footprint Design
Marine Grade Anodised Aluminium Footprint