CleanAhull System TechNOLOGY
Protect your assets
Suitable for any submerged surface. Protection for everything hulls, thrusters, shafts, propellers, jet drives, rudders to box coolers, sea chests, seawater pipes, valves, intakes and more. 
Protect Environment and Save $$
Ultrasonic anti-fouling is the most environmentally friendly bio fouling solution. Unlike impressed current systems or toxic paints, ultrasound produces no toxin / biocide or heavy metal oxides.
Solutions. End to End.
CleanAHull has a solution for all applications. And can scale or customize any solution for any application. As the OEM we have complete control of our product, end to end. You are supported by the manufacturer.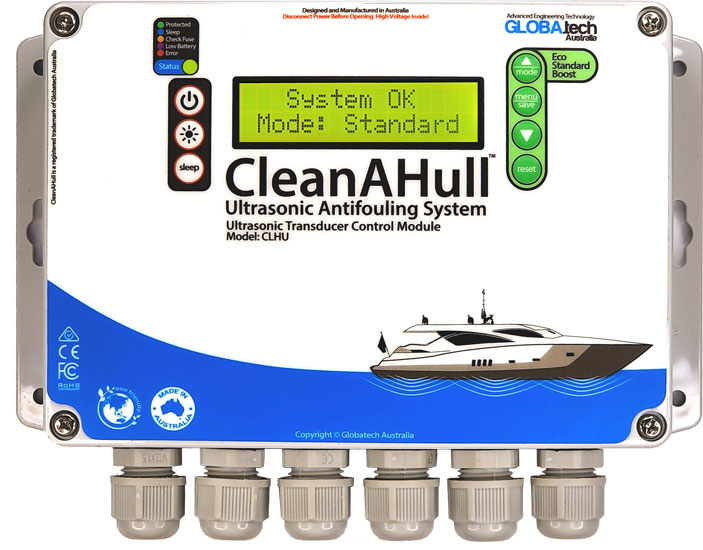 How It works?
CleanAHull works by producing a series of targeted bursts of ultrasonic energy called acoustic sonication.
These bursts of energy are transmitted via our CleanAHull ultrasonic transducers, installed in strategic locations onto the structures to be protected.
The result is ultrasonic energy generating microscopic bubbles that provide the protection within the water column.
The Most Efficient Transducer Ever...
Proprietary Primary and Secondary Mass for drastically improved efficiency. Custom Injection Molded Flame Retardant PVC Enclosure. Electrically Isolated. IP68 Rated. Advanced High Quality Piezo Technology. Suitable for ALL Hull Types.
Our transducers and Footprint/Mounting processes have adapted over time as we have found ways to improve of the output, efficiency & installation. We now utilize a proprietary technology unique to the CleanAHull system improving throughput of energy with the mounting footprint along with major advancements in the efficiency of the Transducer itself for the most reliable system with the best results in the market.
Advanced High Quality Piezo Design
Flame Retardant PVC Housing
Electrical Isolated PVC Housing
Suitable for Aluminium, Steel, Kevlar, GRP (Fibreglass), Carbon Fibre, HDPE and more hull types.
Special Electrically Isolated Epoxy Bonding Resin (JB-Weld)
Propriatary Footprint Design
Marine Grade Anodised Aluminium Footprint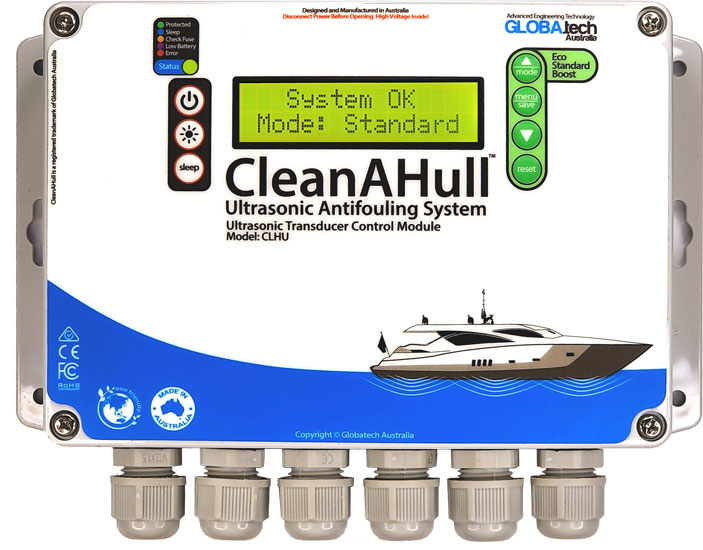 Self Aware, Automated, Advanced Ultrasonic Control Module.
The CleanAHull control module is the brains of the solution and generates the ultrasonic output to drive and monitor both itself and the transducers. Through constant measuring of a plethora of temperature, voltage, input and current sensors the control module runs an advanced proprietary algorithm to generate the output to the transducers.
CleanAHull systems include individual transducer monitoring and calibration functions. Monitoring to determine the health and integrity of each transducer and calibration to ensure the built in algorithm knows exactly how the transducer has profiled it's new environment and carefully construct the best protection. Transducer monitoring can even detect when a transducer is not bonded properly to your vessel and shut down the channel so it can be fixed without damage.
Only solution to carry FCC, CE, RCM compliance tested certification
2 Year Warranty. Peace of mind.
12 or 24VDC natively with Dual un-interrupted AC / DC Options Available on request.
Full Character display. All information, available all the time. Along with a RGB quick view LED
3 Output Power Modes at the touch of a button for convenience in power conscious environments; ECONOMY. STANDARD. BOOST.
2 and 4 Channel Systems Available. Use of multiple systems for larger installations, no problems.
Internal fused protection, with monitoring
IP67 Polycarbonate Enclosure
Vessel integration with isolation control and alert output
Individual Channel control. Using only 3 of the 4 channels? No problem, just turn off the channel(s) not in use from the system menu
Built in 4 and 8 hour sleep/isolation function
Real-time data recording. Internally recording timers for life
Key System Benefits & Features
Reduced fuel consumption by up to 30% & reduce trip times with a clean hull, rudders and props. 
No Toxins, No Biocides, No Heavy Metals and reduced consumption. Environmental protection at it's best.
No through hull parts or welding required.
Reduced downtime, extended docking intervals, improved reliability, reduced fuel consumption, improved trip times.
Simple Vessel Integration
Vessel monitoring and integration with SCADA and others for isolation control and error detection.
Native 12 / 24VDC & uninteruptable dual power options. 100 – 240VAC No problems.
Automatic individual transducer calibration & advanced targeted algorithms for improved protection.
Individual Channel Control
Each Transducer monitored and tested with individual channel isolation and control. Detects issues and maintain protection, always.
3 built in power modes control the output level.
Low Power, Normal output and Boost. It's up to your application requirements.
ECONOMY. STANDARD. BOOST.
Tell the system where it is installed for even better results. Modes; Hull/Chest, Box Cooler, Heat Exchanger, Running Gear, Pipe, Water Column.
The only system in the world that carries FCC, CE & RCM certification for the entire system. 
Gold plated, Lead Free, Conformally Coated.
ROHS compliant, marine grade PCB's.
CleanAHull is part of the GLOBAtech Australia product range and as such takes advantage of the continued and consistent research & development cycle. We see product development as a kind of evolutionary process. Through continued efforts and incremental improvements we move our products forward with the focus on obtaining ultimate; reliability, efficiency, results and as always quality.
Over the years this ethos has seen a number of product revisions and upgrades all of which achieving one or more of the above goals and when coupled together have aligned as major leaps in our technology consistently keeping us at the cutting edge of our industry.
The CleanAHull Control Module Circuit Board/Program
The CleanAHull control module is based on the proven platform developed over years of experience and advancements by GLOBAtech Australia.
Automatic Calibration Function (Reads and Calibrates Installation/Hull Transducer Conditions)
IP65 Polycarbonate Flame Retardant Enclosure
Built in system monitoring and EEPROM Uptime Counters stored
Advanced Frequency Generation Algorithm using multiple built in sensors for the best output.
4 Built in Temperature Sensors for active monitoring
Active Battery Monitoring
Individual Channel Fusing + Monitoring
12/24V DC Auto Sensing Input Voltage
Active Current Monitoring
Isolated ALARM Output Relay for vessel system monitoring
System Isolation function
Built in LCD Display for live status updates and Clear English Error Notifications.
RCM, FCC, CE Tested Compliant.
Advanced Highly Efficient Digital Driver Circuit
Enquire here about CleanAHull systems for your vessel.
Find out more, open a dialogue or just get in touch below.